Nepal/Tibet report #16 - Mount Kailash / Lake Manasarovar
2 mei - 30 mei 2005 Mt Kailas and Lake Manasarovar in Tibet!
Woooooow: Mount Kailash and Manasarovar. This was one of the most particular, most splendid and most interesting trips we have made. From the empty, bald, cold, quiet, superb Tibet we are now in the green, sweltering hot, busy, but also splendid Nepal. Still full of this splendid trip and a little disorientated after the fast descent of the Tibetaanse high plains through the beautiful gorge of the Bhote Kosi river to Kathmandu now we will make up for the departure to Amsterdam coming Saturday. Before we report about the Kailash/Manasarovar-trip further we will start describing the beginning and the period between the previous report and our departure to Tibet.
--------------------
--------------------
Whereas Guido went cycling in the Kathmandu valley, we catched up normal living with the voluteerwork, BeOnTop-work and the necessary nice things. On Wednesday evening 4 May Guido returned and with him we continued our normal life. Guido also worked a little from Kathmandu and Arno and Guido went to an Internet company several times for a new project for converting a Internet site which is managed by BeOnTop. In spite of the objection of cumbersome harmonisation and the fact that the price in Nepal is not much lower than in the Netherlands (the competition is here not that large) nevertheless we decided to give the task to this Nepali company, because we like it better to spend the money in Nepal then in the Netherlands. After the work it was time for a nice long week end. This started on Friday evening with goodbye diner in the Latin Quarter with Mijke and Geert (two volunteers who had been already in Nepal since September too) where we were accompanied by half of the "Salou group". It became a long sociable evening with a lot of drinking, laughing and dancing.
| | | |
| --- | --- | --- |
| | | |
| New bicyle for Hamro Niwas | Children of Hamro in Kirtipur | Bouddhanath Stupa lighted on Buddha's birthday |
Note: this travel report has been translated automatically. However we will be working on a full translation soon.
The next morning we went up on time because we would cycle with 7 boys and an accompanying person of Hamro Niwas. We brought a small new bicycle with us for the smallest kids of Hamro. This was a present of Suzan and Peter2 for these children. They found it great. After they had been watching how the large children cycled nicely, now all children can share in the bicycle pleasure. With the older boys we cycled to the nice, cosy village of Kirtipur, about 10 kilometres south of Kathmandu. On the way back we went to the footbal stadium of Kathmandu for a game of the AFC cup (a type champions league of C-countries in Asia), where Kyrgyzstan beat Sri Lanka no less than 8-1. Sunday 8 May we cycled to Bouddhanath where the anniversary of buddha was being celebrated. During the day there was not much to see yet, therefore walked we a little in the nice surroundings. We decided to return at night and have Guido's goodbye diner in the casino in the Hyatt Recency. Before we went to the casino, we let us converge with hundreds of Tibetans first to walk a last circle around/on the stupa of Bouddhanath which was now entirely lighted. A splendid face.
In the casino we bought a couple of chips and toke the possibility free eating and drinking indefinitely. Of course we could not let it nevertheless a couple play game and thanks to lucky bird Guido (or was it real insight?) we even left with more rupees than we had brought in a couple hour earlier. The next afternoon Guido went back to the Netherlands, but not before going to the Internet company to discuss the latest things of the new project. Meanwhile we had made our Mount Kailash trip definite. Unfortunately we had planned to go with 12 Nepalese pilgrims, it lasted much too long before they had drawn their definite plan. The day before we left we let us hear that this nepalese sniffing did not continue because an one of the 12 participants couple of days for departure had been assassinated by the Maoisten. Fine country, which nepal. On Friday 13 May we still went for a last time (we to be already tijdje busy with farewell remove of several people) with Santosh and Sangeeta. They were exactly of a drawing in the exclusive Upper sparrow grip, where they had met the king of sparrow grip in Lo Manthang among other things. With them we went nicely Thai food, still a last time to salsa-school and salsa bar and we concluded the evening in the Fire club in Thamel.
Sunday 15 May. The day of the anniversary of Hamro Niwas, on which also the anniversaries of all children are celebrated. Unfortunately we had this festival missing, because 6 hours in the morning we had be ready for the departure to tibet for our 14 daagse sniffing to Mount Kailash and Lake Manasarovar. Mount Kailash are the most saint mount of Azie and a destination for pilgrims of partisans of Buddhism, Hindoeisme, Jain and Bon-geloof. Mount Kailash lie in the west of tibet, far from the capital Lhasa and far from already the areas developed by the Chinezen. We drove this first day firstly with a bus by means of Dhulikel to Kodari, the grensplaats with China to the nepalese squares. Leave of nepal went rather smooth. On the other hand of the Friendship bridge, the bridge concerning the border river, stood wait 3 landrovers and a truck for our. It lasted, however, even before all spullen had been overloaded from the bus and the landrovers and truck from the entirely being certain collection cars and truck had themselves loose gemanouvreerd and we could further to the Zhangmu, the Chinese side of the border. Here us wait an unpleasant surprise. There still large of almost 60 Indiers incl proved to be also almost 60 man staff on gone to Mount Kailash and this complete group stood for us in the file, whereas the Chinezen only one man had used to settle the formalities. This lasted therefore certain 2 hours. Beetje talked with the enthusiastic Indiers. For Hindus the sniffing is very important to Mount Kailash "once in a lifetime" pilgrimage and therefore. What we then not yet knew, are that it for us a splendid but very very heavy sniffing would become and for them a free dramatic adventure, but about that later more.
| | | |
| --- | --- | --- |
| | | |
| Porters at Nepal-Tibet border | Lunchbreak, together with all Indian Jeeps | Yaks and Cranes |
Once by the customs authorities gone, we kept on driving to Nyalam on 3,700 meters altitude. Here we would continue a day for acclimatisation and immediately touch a beetje naturalised in the accommodations which we could expect further. The guesthouse in Nyalam were some during this sniffing where we flowing water. This means that there a couple kraantjes above a wasbak was, where ice-cold water ended up. We could let the illusion that we could wash our perhaps still once rather in the coming 2 weeks, sail immediately. In Nyalam time travel-enjoyed it had been extended there once closer make knowledge with ours. This a very interesting international group proved be. - A French/Irish cross-belt that the half world has roamed concerning and now even if 6 years in India and Greece live. They live in Ashram in India and deserve their money with donaties which they get with spiritual lessons and healings. They give the lessons which them pass on teacher them, to their students. They have both the same teacher who to be passes on lessons in their dreams. This teacher has also said that them the Greek islands must flee because there by the end of July will happen or in august something terrible. Did not can you therefore still vakantie-plannen have, go in that time then to Greece. Furthermore them complete Sai baba devoted and Sai baba are give all kinds of things (messages, but also materiele cases) them by without speaking their. The man its children have not seen already 4 years, but also without Internet and tel. each day contact with them.
- Further we 2 ladies have from Latvia which complete Shiva devoted are and even if for 6 years have dreams in which she is told that they must to Kailash. After Kailash they go by to Sai baba. - Then we still an American and Zwitsere architekt have who both very philosophical and spiritually moored to be, yet follow no stromingen, but vnl at itself go to guess. The American, who has seen the death in the eyes around its twentieth, is, however, a complete particular type, which is continuously, in enormous lachbuien bursts out and carries out all kinds of religious operations. He could tell also concerning its own birth a lot of details. - Moreover still an Austrian exclusive furniture maker who seems be with regard to at the latest this way ZZtop run, but with regard to individuality a more personificatie of Lao Tze is. On 10 person whose birthday it is age he kept on studying during a training priests the beautiful message of the bible, but also that ie not this way many ophad with the institute "the church" and already not at all with the messengers of god word, of which some kept there particular annoying practices on. It is entirely completed by a sober woman from limburg. The Nepaleze accompaniment were excellent. They looked after 3 time per day a meal for our and were ready almost day and night full of friendlyness for us.
On Tuesday 17 May the ride started to Kailash just real. As a first we concerned a high bergpas of wide 5,000 meters where you had a splendid view on the himalaya which you your feeling could touch almost, this way near was the enormous white picks here. Afterwards we left directly the Friendship Highway, which walk away of the border by means of Lhasa to Shanghai (it lasts approximately 10 days to depart these very). The motorway is moreover mainly rough gravelweg, but directly after the junction this appeared relative very beautiful, because of a gone direction Kailash in fact no talk was. It was a more track by the rough landscape was that drawn by the vele vehicles which had gone our for. We sat play at marbles therefore hours long on ours are based on, but had an extraordinary beautiful view on the North square of the himalaya range in the south of the fall slate and the Gangdise bergrange at north of the fall slate. After a couple, met we drive hour with dozens the jeep of the Indiers to be stuck in a number of sand dunes near turkooise Paiko tso more and to the foot of splendid white mounts. We made of the need a virtue by will have lunch here, whereas dozens of nepalezen kept themselves busy with pulling loose the vele cars which were continue put. A couple hour later followed the next oponthoud. The bridge concerning the saint Brahmaputra river was still not entirely ready and the cars had cross this river by vat (pedestrians could use, however, already of the bridge), where 3 a 4 was possible there vehicles by oversteek. The vat on both sides of the river through a jeep resp tibetaanse traktortje were back and forth passed. A oversteek lasted already rapidly 10 minutes a a kwartier and there stood perhaps 50 vehicles for our wait. At least 3 hours later and halfbevroren by ijzige wind we could our overnachtingsplaats in saga further for the last minutes direction. We would will camp here in fact, but there it already this way late was we let us decide take guesthouse.
| | | |
| --- | --- | --- |
| | | |
| Ice in river | Sunrise at Himalaya | Lunchbreak |
The next day continued we our way along the splendid himalaya with also her and of the a lot of now frozen rivers with splendid dikke layers ice, large ijsschotsen etc. Underway we were apprehended by a truck with the nepalese speculators of the Indiers. Of the nepalezen terrible charge of altitude sickness had. He could stand no longer communicate on its legs, no longer, and had voordurend deliver. To be comrades were the despair close, them did not know what she had do and also we could start of course little. We helped them with the use of an oxygen bottle and gave diamox (altitude sickness pills) and promised to the rest of the group of Indiers pass on that 1 person seriously sick were. The best remedie is of course descends, but we sat on a point which a serious descent of some hundreds of meters drives almost a complete day were. Impotently we kept on driving to a peak pear spot beyond Paryang. Here we set up tent camp for the first ounce in splendid surroundings, but also in an ice-cold storm.
There us an unpleasant surprise waited. A lot of tents appeared have breaches and each tent had one or more to slither which worked not well. Furthermore slaapmatjes the flinterflinter were thin. That promised the what kind of night. Those appeared indeed ice and ice-cold, where temperatures were of it measured minus 10 in the tent. The next morning appeared that most of the people of heat no eye dense could have done. On the open plain fortunately already rapidly the sun came at voorschijn, so that we could already rapidly a small beetje doorwarmen and the splendid view concerning the plain with the himalaya could enjoy range. The water to drink and boil during this sniffing vnl rivers and moor were obtained and were frequently a beetje turbid, but kennelijk well enough. After the breakfast we drove in an hour or six by to Darchen that to the foot of Mount Kailash lie. After the shock of last night everyone kept camping, however, even for seen and decided we in guesthouse spend the night. In the surroundings of Kailash the only difference between guesthouse is and a tent as a matter of fact the material of the partitions of your night stay, because also at guesthouse have you no flowing water and your toilet needs must you also simply to outside. With what luck is there still a separate box (with luck still more, a covered box) where you can do yourself needs in a breach in the ground. With what breakdown, you stand simply entirely in nature in ice-cold wind and snow.
The Kora for Mount Kailash on Friday 20 May left we for the three-day walk concerning the Kora van Mount Kailash. It was the intention that we a herd Yaks (say but tibetaanse cows) to take along our luggage, tents and food. However, because the Dolma drawer (just of 5630 meters high) still entirely full snow and ice lay, it was not possible of Yaks or horses use. Fortunately we could regulate a large group tibetaanse dragers for this klus, differently it had become considerably cumbersome. After a kilometre or 10, encountered we run at the Kangnyi Chorten (or stupa) in Tarboche the large group Indiers. Tarboche are the last point where you can come still with the jeep. It appeared that their dream had fallen already nice in duigen. Most were reasonable on age and had what charge of a less good condition cq. quite what overgewicht, therefore their planning was the kora on the back of Yak or take off horse. This festival did not go up therefore beautiful. For these pilgrims a calamity, because they therefore never ended up entirely Zuid-India for this one-off excursion to Kailash and the Kora would complete. The poll in the group was however still more depressed there one reisgenoot with serious altitude sickness by helicopter was geevacueerd and still more terrible, one reisgenoot already by altitude sickness had collapsed, not on time medical aid had got and to altitude sickness had died. Of course the poll in this group had been considerably printed, but perhaps more laconic than we would expect with such circumstances: "What to do?" the parool was. Possibly that this comes also because dying produces many points during pilgrimage for Hindu's particularly for a good karma and perhaps leads to the Nirvana.
| | | |
| --- | --- | --- |
| | | |
| Starting point of the Kora | Prosternating Tibetan at the Kailas kora | Camping beneath "North face" Mount Kailash |
Under the motto "What to we continued do" therefore also but our way direction squares our first camp at Dirapuk Gompa (Dirapuk convent) to the North of Kailash. We ran by a splendidly deep gap, along a river which lay at several places still full ice and snow and had continuously a superb visibility on the mounts and of course on Kailash themselves. Splendidly to see how nature here its pace continues, with rolled over strata, wind and water geerodeerde rotswanden, dead straight doormidden split rocks and a lot of shining sharpened and coloured stones with all colours of the rain arc. By altitude, Dirapuk Gompa best a heavy walk lies on 4900 meters, was and around an hour or five we arrived rather tired in the camp, where it nearly directly slightly started snow. We crawled all together at each other in the eettent and this way to the North foot of Mount Kailash already rapidly the spiritually getinte conversations rise came. The life tales and life visions of our travel-enjoyed products in any case terrible interestingly to listen to and was nice with them of remembered to change. Fortunately it did not blow that night almost, so that we in our tents what had less charge of heat and the next morning still slightly asked fit to the heavy day with the klim concerning the Dolma drawer (5630) could start. A complete beautiful walk which froze mainly concerning and with snow covered riviertjes and mount slopes went. Accompanied by lively whistling, laughing, singing and/or praying Tibetans with gebedsmolentjes in the hand and lively tinkling bells on the hip, we floated slowly omhoog. Underway we came among other things along Shiva Tsal where Tibetans leave behind kledingstukken massively and evt take along other with which a type of wedergeboorte is symbolised.
| | | |
| --- | --- | --- |
| | | |
| Dolma la (pass) | Dolma la | Tibetans crossing frozen river |
| | | |
| --- | --- | --- |
| | | |
| At Dolma La (pass) | Icelake | Camping in the snow |
Once on top of just we hung gebedsvlaggetjes that we had got eigenaresse of our guesthouse of the tibetaanse. In a considerably firm snow storm this klus not yet turned out better than expected. We descended concerning glibberige paadje among other things the frozen tukje Chenpo more, which when it thaws out is a splendid emerald colour must. After the stijle descent had we appr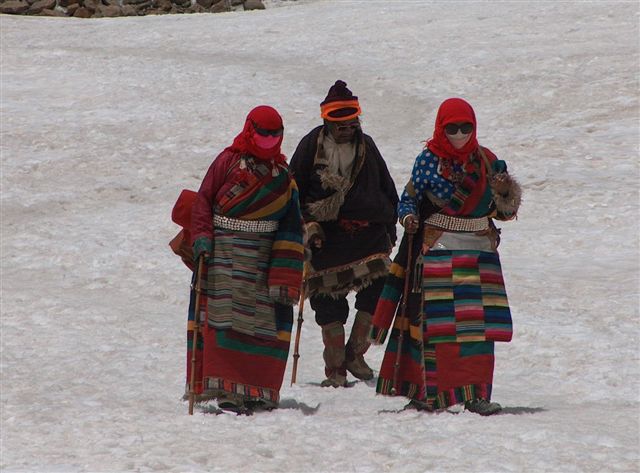 oximately hours still 3 "uitwandelen" direction our next camp at Zutulpuk (mirakel cave), name after Milarepa, who the cave where he zat meditate to an action of the saint what on the small side found and with what gestures small verhoogte and the floor to the ceiling correctly reduced. When we arrived there at 19.30, there already a firm breeze, which the feeling temperature did not help, resisted. Many had had a heavy day and a number of explained the pain with the fact that them a good "spiritual had purification" behind the back. After a bad night's rest, we became the next morning awake during a considerable sneeuwbui. Meanwhile all ledematen started considerably do pain of the ice-cold nights on the hard, cold ondergrond. Burst open spots to healed hands and face also no longer and became only more terrible under the influence of heat, sun and wind. After the breakfast we went on path for the last part of the kora. A walk which went firstly still by the beautiful valley of the Zhong Chu river. We ran concerning froze pieces river, where you the water under the dikke heard ijslaag thunder. Splendid. The last piece walked back we in hail and snow concerning the plain of Barkha to Darchen, where we completed the kora and with that according to Hindu belief sent of our complete life erased must. A nice bijkomstigheid.
Once in the guesthouse proved three of 10 people not yet within, be whereas there meanwhile a considerable snow storm put up and all dragers and guides, however, already within was. In fact it was the intention that guide there always one as a bezemwagen acted and at the last walker would remain. After an hour the nepalese staff became nevertheless slightly nervous and a jeep on path was there at last sent to will zoeken to the last walkers. Those were found fortunately already fast. It appeared that they had tijdje sit meditate in a cave and each other afterwards wrong had run, so that they had considerably on each other stand wait. We had reversed the diagram of the sniffing, so that we would do the kora firstly, vervolgens to the Sagadawa would be possible festival in Tarboche and afterwards just to Lake Manasarovar would go. Our tibetaanse guide gave us the choice between to camp on the festival area or stays in the guesthouse and then the next morning asked for the festival in Tarboche drive. There nevertheless very cold have had the most it, chose almost everyone for the last. Unfortunately the guide was just as forgets verify if there uberhaupt were, however, spot and appeared complete Darchen full sit, so that we could make up ourselves for a new cold night in the tent.
klik hier voor het vervolg van het verslag Mount Kailas / Lake Manasovar
2 mei - 29 mei 2005 - Mount kailash lake manasarovar
9 april - 1 mei - bezoek, Bouddha, Bungamati, Ghandruk, Ghorepani, Tatopani trekking, Pokhara en vervolg verslag 15 - Temal Jatra festival en Koninginnedag in Nepal
17 maart - 31- maart - Holi festival, Pokhara
30 januari - 21 februari - Noodtoestand in Nepal / Losar / Sankhu / Pokhara
24 november - 17 december 2004 - Streetdance / Bungamati & Khokana / goede doel
23 oktober - 5 november 2004 - Changu Narayan, Phutung, Pokhara
28 september - 5 oktober 2004 - Verslag week 3 (Nepalese taalles, lezing Lama Rimpoche, Budhanilkantha, computerlessen in kinderhuis)
21 - 28 september 2004 - Verslag 2 - o.a. Bouddhanath, Kirtipur en Indra Jatra festival
15 -21 september 2004 - Verslag 1 - o.a. aankomst in Nepal, Swayambhunath en kinderhuis
paragliding / trekking-agencies / Mount Kailash / experiences